Biden Administration's New Title X Rules are in Effect
New Title X Rules Restore the Integrity of Our Nation's Family Planning Program + Promote Health Access and Equity Nationwide
The final Title X rule released by the Biden Administration took effect on November 8, 2021. Essential Access Health applauds the Biden Administration for taking action to restore the integrity of our federal family planning program and ensure access to equitable, affordable, high quality family planning services across the country. Learn more in our statement.
Implementation of the final rule comes not a moment too soon. The COVID-19 pandemic and abortion restrictions sweeping the nation make removing barriers to birth control and complete and unbiased information about pregnancy options more critical than ever.
We stand committed to partnering with the administration, Congress, and allied organizations in California and across the country to rebuild our family planning safety-net. Together we can and must create a more equitable, client-centered and just health system that meets the unique health needs of every person in need of care – with dignity and respect.
About Title X in California
The Title X federal family planning program was established by Congress in 1970 with bi-partisan support. In California, Title X funding supports the delivery of quality sexual and reproductive services such as birth control, breast and cervical cancer screenings, STI testing and treatment and other preventive services. Title X has played a significant role in reducing unintended pregnancies to their lowest levels in 30 years.
Essential Access Health leads the largest and most diverse Title X system in the country and has served as the lead Title X grantee in the state of California for more than 50 years. Our statewide Title X network includes comprehensive family planning service providers, STI prevention partners, and faith and community based outreach and education partners that collectively serve over 29 California counties. Essential Access took immediate action to rebuild California's statewide Title X provider network as soon as the Biden Administration's final rule took effect. California's provider network offers equitable, affordable, high quality, and client centered family planning services for patients with low-incomes at over 400 clinic sites throughout the state. Learn more about our statewide network.
With the introduction of the Biden administration's final Title X rule, we are ready to rebuild a robust and comprehensive network of qualified providers and support the delivery of equitable, affordable, high quality, client-centered family planning services for low-income patients statewide.
Essential Access Health v. Azar
On February 22, 2019, the Trump administration released new regulations rules for the Title X federal family planning program that undermined the program's mandate to provide comprehensive family planning services for all. The regulations represented some of the most extreme policy changes introduced in the history of the program and denied Title X patients complete and unbiased information about their pregnancy options by withholding abortion referrals, even when requested. These draconian policy changes dictated a lower standard of care for low-income patients that disproportionately impacted individuals living in rural regions, and Black, Indigenous, and other People of Color.
On March 4, 2019 – the day the regulations were scheduled to take effect, for the first time in our organization's history – Essential Access went to court. As an original Title X grantee and leader of the largest Title X system in the nation, we had an obligation to take the extraordinary step of filing a legal challenge in federal court in the Northern District of California, to save Title X and protect patient access to time-sensitive information and health services.
Essential Access advanced our fight to save Title X all the way to the United States Supreme Court. You can learn more about our fight to #SaveTitleX below.
The Fight to #SaveTitleX – A Timeline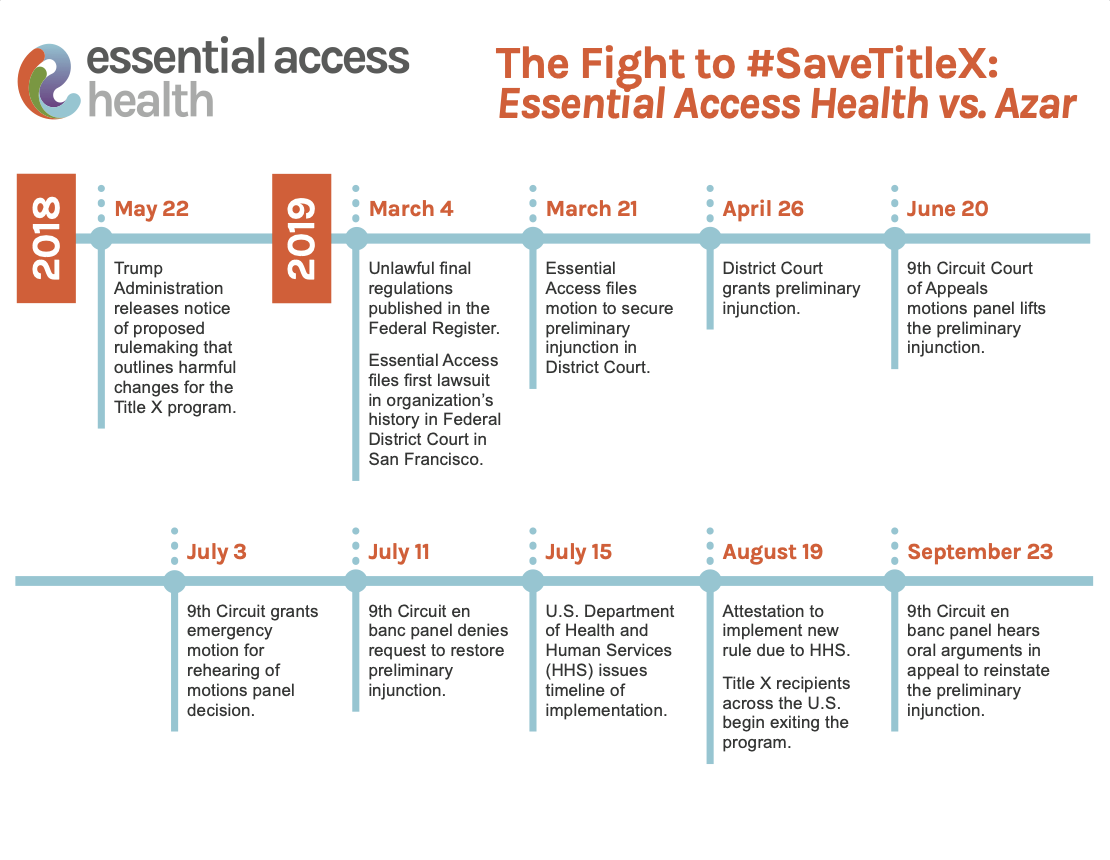 Download the Essential Access Health v Azar Litigation Timeline (PDF)
- Back to Top -
Resources + Information
Contact us to receive additional information and materials.
- Back to Top -
For the Media
- Back to Top -