Temporary Office Closure
Essential Access Health's offices are temporarily closed to support coronavirus prevention efforts. Please contact us if you have any questions and an Essential Access Health team member will get back to you as soon as possible.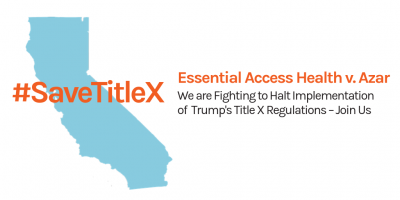 Essential Access Health filed a lawsuit in federal court to block the Trump administration's Title X regulations from taking effect. Although the regulations are currently in place, we will keep fighting to ensure that Title X patients across California have access to essential health care - and to protect Title X's mandate to provide comprehensive family planning services to all.
This fight isn't over.
Learn more about our legal challenge, California's statewide Title X network, and how you can help.